Mt Taranaki (Egmont) stands proud midway down the coast of the North Island of New Zealand. It is an extinct volcano and has the classic conical shape that is both dramatic and beautiful.  I summited the mountain when I was a teenager, and again when I was in my early 20's. It captured my attention once more, when we were planning our recent New Zealand trip.  I saw an amazing picture of the Pouakai tarns.  My fingers got googling, and seeing and photographing these magical little alpine lakes, rocketed to the very top of my bucket list.
The Pouakai Circuit is Egmont National Park's premier 2-3 day tramp, and is a 25km loop. I figured it would stretch our abilities as a family, but wasn't out of reach.
We got a late start on the first day, not leaving from the North Egmont Visitor ,Centre until 2:30pm. We headed up the Razorback ridge, walking through the bush and gaining about 300m in elevation. Breaking out into the subalpine scrub we got to enjoy these views.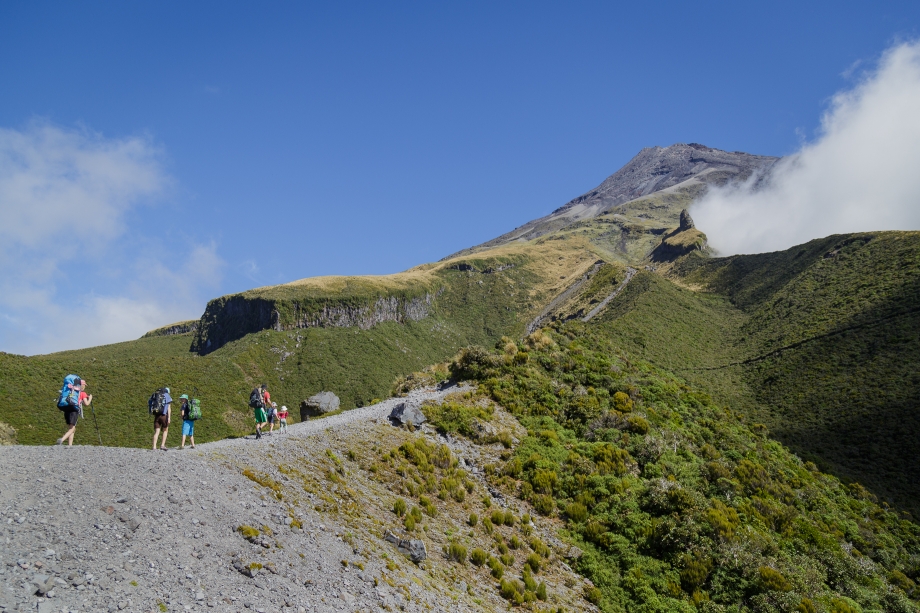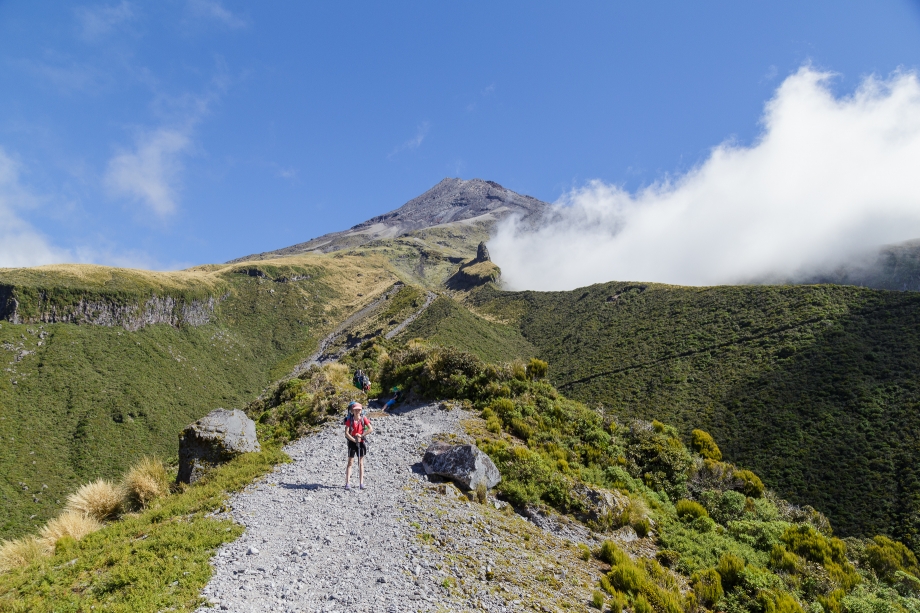 The track traversed in and out of the gully's and climbed over ridges, passing the impressive Dieffenbach cliffs and rain-gouged watercourses.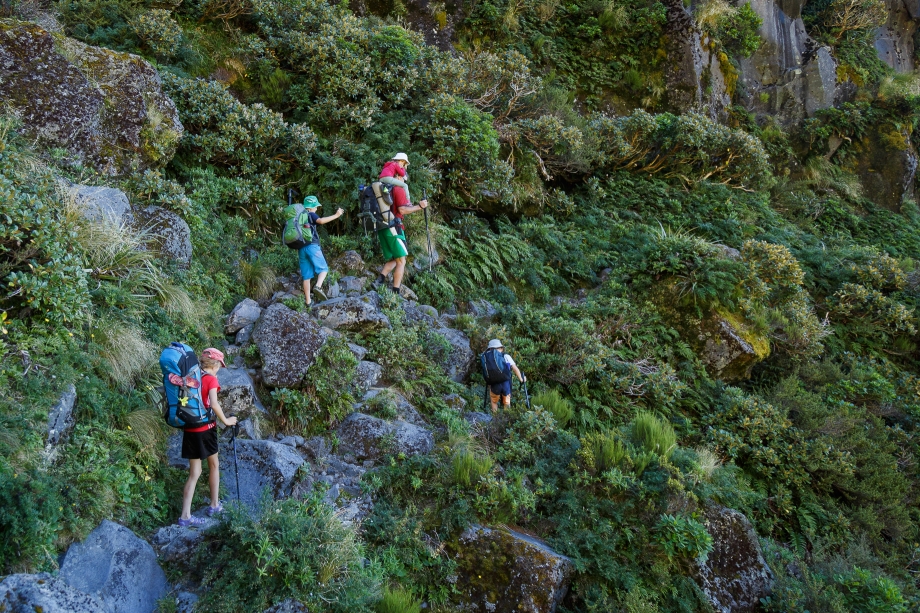 Once we passed the Kokowai junction at about the 5km mark, the track gradually descended, and spread out in front of us was an amazing vista of the Pouakai range (which we would climb on Day 2).


7.5km and 5 hours walk from North Egmont, we arrived at the 32-bunk Holly Hut.  It is first-come first-served and requires pre-purchased hut tickets.  It has 4 bunkrooms with platform sleeping areas and matresses, basic solar lighting, a wood burning stove, tankwater, and longdrop toilets.


Day 2 was a little shorter at 4.5km but uniquely different from the day before.  Day one was more sidling around the lower flanks of Mt Taranaki.  Day 2 we got to cross the awesome Ahukawakawa Swamp before a climb of 300m onto the Pouakai Range.  




It took us 3 hours to cover the day's mileage, with our three year old walking nearly all the way!


The Pouakai Hut is popular and first-come first-served just like Holly Hut.  It has 16 bunks in 2 separate bunkrooms and since we got there at lunchtime we got to claim one of the bunkrooms just for our family! The kids had fun playing the rest of the afternoon around the hut. Even though it was a beautiful day, clouds had clung to the top of Mt Taranaki all day.  I really needed them to clear so I could get photo's! After dinner, I left the crew at the hut, to run 1.6km to Pouakai Tarns.  As I crested onto the top of the ridge, I was stoked to see that half of the mountain was visible!  I ran with a skip to my step, confident that it was going to completely clear.  Oh boy.  I wasn't disapointed! It was amazing 🙂






Once the light faded and disappeared off the tarns, I headed back up the hill and got this 🙂  I was really wishing I had convinced the rest of the crew to come with me.


The track for day 3 goes by the tarns, so I was excited to get more pictures with the kids.  But guess what!  We woke up to lots of wind, and poor visibility.


We toyed with the idea of taking an escape route because we were walking along an exposed ridge and we couldn't risk the weather turning worse.  We decided to go to the Tarns, and if needed we could devise another plan.


Those pictures of Mt Taranaki reflected in the tarns?  This is that exact same place! Wind-rippled grey water, and fog.




It was still pretty, but made me super thankful I had clear skies the night before.


From the tarns we decided to continue with our planned route.  The wind thankfully wasn't cold like it can be in the New Zealand mountains, and everyone was in good spirits. During our 11km walk, we summited Henry peak – couldn't see a thing,  but we did climb a bunch of ladders en-route!


After Henry Peak, an arduous downhill followed, with lots of rugged stairs and roots. The 3 year old had to be carried most of the way, so we could travel at a quicker pace.  Some of the steps were as tall as her.  


The bush is beautiful, and we had fun crossing a couple of swing bridges.




The track terminates at the North Egmont Visitor Centre, but we decided to pop out on another trailhead onto the road, so we didn't have to walk another 2.5 km uphill.  Hubby easily hitched to get our van, saving our weary backs and feet!
To summarize, it was well worth our while.  It was important to us to make this trip happen, so we had to shift our schedule around a bit in order to get a good-weather window.  It is a challenging trail, with lots of step-ups, arounds and overs.  I don't think I have tramped anywhere where so much wood has been used to construct grates to stabilize the trail to prevent water erosion and help keep trampers boots dry!!  I can't even imagine the work it took to do that.  It was more busy than I expected, but we were also there over a weekend, and there were day hikers and mountain runners that were out enjoying the track too.
It was the hardest backpacking trip our family has done, and we stuffed ourselves into our van, and drove away with that warm, satisfying feeling that we did something hard and smashed it 🙂
You Might Also Like: