I am always keeping my eyes and ears open for family-friendly adventures.  I have a filing box in my brain for these pieces of information!
A couple of years ago, I filed Fish Lake, Top of the World Provincial Park.  My informant (ha!) told me that it was beautiful, uncrowded, had a backcountry hut & beautiful lakeside campsites, took only a few kilometres of hiking to get there, and was a good base to day hike from.  Perfecto!
The hut sounded like a good idea too.  If you are from New Zealand, like I am, backcountry huts are normal.  We have a 1000 of them, and I'm not even exaggerating!!  They are much more scarce in Canada.
Before I tell you about our adventure, lets talk about the pro's and con's of huts when you have kids along.
PRO'S:
Great place to shelter when the weather isn't so great – cold, windy, snowy, or rainy – no problem! A hut makes it sooooo much easier to keep kids entertained, not to mention being warm and dry.
They often have a fire place which helps with the warmth factor.
Don't have to carry a tent, therefore lowering the weight you have to pack in, which is important when you are carrying half of your kid's stuff!
Can be fun to meet other hikers.
If you choose your day of the week and/or time of the year carefully, you could have it to yourselves (for first-come first-served huts).
Some huts in the Canadian Rockies are small enough that you can book the whole thing for just your family.  Or invite friends along to bring up the numbers (to avoid the 'con' below).
CON'S:
Sharing with others. If you have kids that have a hard time going to sleep, wake during the night, are easily disturbed by loud snoring/noises, or wake at the crack of dawn, a shared hut can be a stressful thing for parents and hut partners.
Can be expensive depending on the pricing structure.
Busy during the summer.
Top of the World Provincial Park is very out of the way.  It isn't close to any large cities, or part of any major tourist runs.  It takes an hour and a half driving on a logging road to reach the trailhead once you have turned off Hwy 93 (between Cranbrook & Golden).
The 7km trail (200m elevation gain) is very well maintained, and a grade that is easy for kids. Our 3 year old walked just about all the way, with just a couple of short stints on sisters shoulders.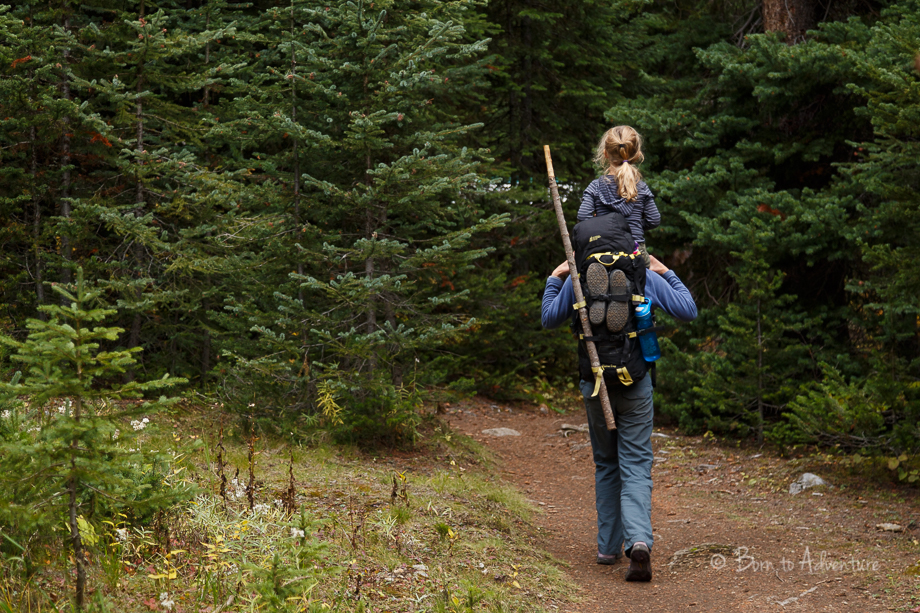 The hut sleeps about 20 people on bunks around the perimeter of the building.  It has a wood burning stove, and a well stocked wood pile.  Everyone enjoyed making shavings to start the fire!




We were hoping like crazy, no one else was going to be at the hut.  Our youngest still randomly cries in the night and I didn't want to have to share that experience with strangers that probably don't have kids and wouldn't understand! The first night we were alone.  The second we had two other hikers join us – poor them!
Outside there is a gorgeous view, floating dock, picnic table and fire pit










A few different hiking options take you into the alpine.  We choose to go to Sparkle Lake which was 3km and 350m of elevation gain.




We also circumnavigated Fish Lake which is about 2km, fishing as we went. Well some fished, and some read their book!










We had a great time.  It feels so good for my soul to get out like this!  I will leave you with some links to other huts in the Kootenay Canadian Rockies!
Significant elevation gain, but manageable distance if you are a more experienced family:
Thunder Meadow Cabin, Fernie (Booking required, 8 berth).
Jumbo Cabin, Panorama (booking required, 8 berth)
Conrad Kain Hut, Bugaboos (booking required, 35 berth)
Minimal Elevation Gain:
Fish Lake, Top of the World Provincial Park (First-come first-served, 20 berth)
Elk Lakes Cabin, Elk Lakes Provincial Park (booking required, 14 berth)
Cameron Lake Cabin, Waterton National Park (booking required, 8 berth, winter only)
Oh!  And a giant PS. that I nearly forgot!  You pass by Lussier Hot Springs as you drive in on the logging road.  The 100% natural pools are an awesome place to stop on the way in and out 🙂
You Might Also Like: