Eye Candy.  This place is drop-dead gorgeous.  Let me introduce you to Maligne Lake, Jasper National Park.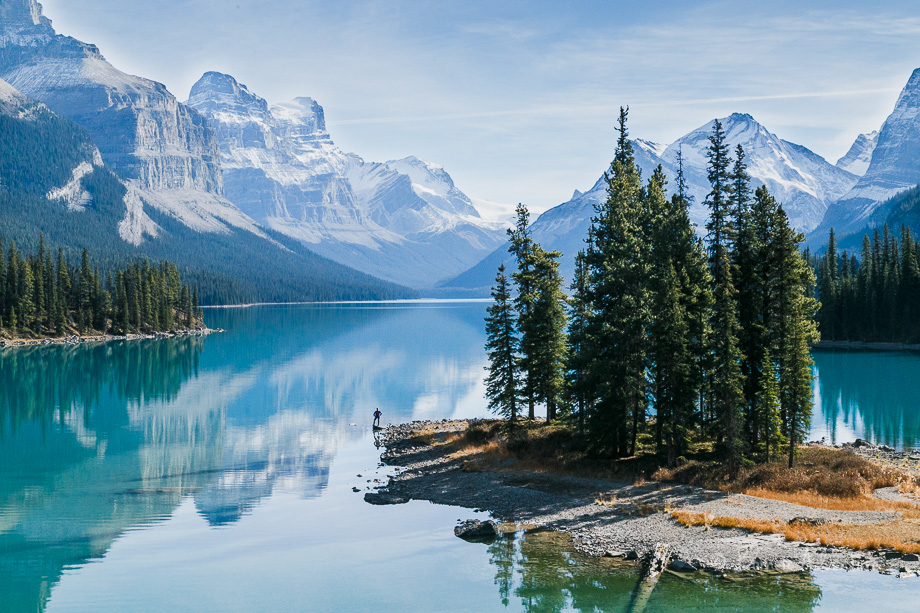 Situated approximately 45km from the township of Jasper, Maligne Lake is a natural beauty visited by people from all over the world.  You can get a feel of this glacial lake in it's classic U-shaped valley by going on a boat tour in spring, summer & fall, that takes you about halfway down the lake to the famed Spirit Island.  It is one of the most photographed locations in all of Canada.  Or the other way to see it is by kayak or canoe.
Which is what we did. We had 5 days booked off in October, which was a bit of a risk weather wise.  To be honest, I didn't really want to go if the weather packed it in.  I wanted a mellow trip.  I didn't want to fight wind and snow, and figured we would forfeit our reservation and go somewhere else if that was the case.  The few days leading up to the trip the weather forecast kept changing, but by some miracle a beautiful weather window opened up, and sat perfectly over the days we needed. It was to be a kid-free trip.  Not because it is difficult but it was our 'anniversary trip' that we try and make time for every year.
We got an early start driving from Jasper to Maligne Lake on the first day, and just out of Jasper was an elk herd!!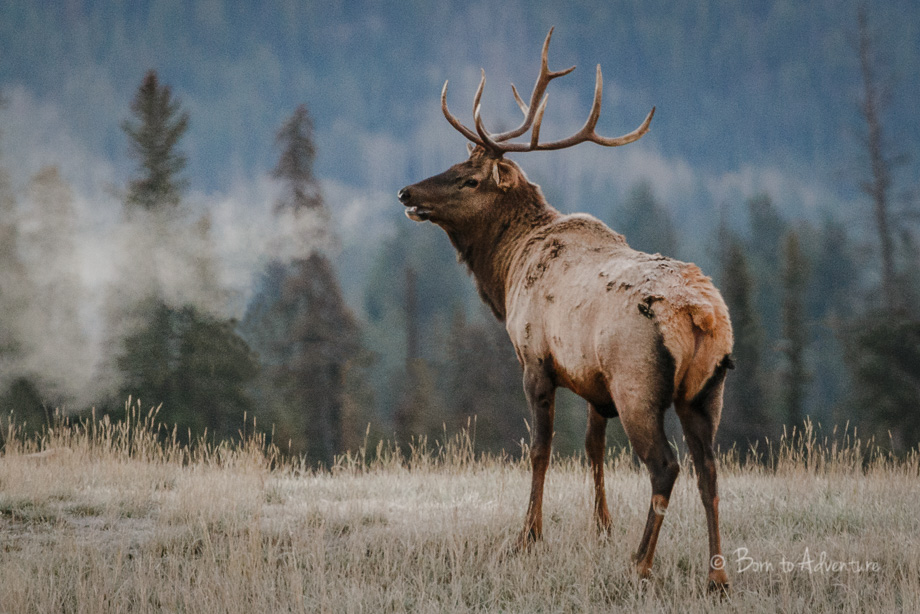 We arrived at the boat launch before the sun came up, and got our stuff loaded into our canoe under clear, cold sky's.

The first 13km of the paddle down the lake, the mountains stand proud and gorgeous in the distance.  You feel the grandeur, but you also feel the space.


Our 3 day trip offered the most stunning photography conditions imaginable.  The lake was glassy calm, the sky so blue and the autumn light was just magical!





At approximately the 14km mark, the lake narrows to only about 100m wide.  The mountains come close, and though the shade of the water was amazing before, it just seems to get more turquoise and surreal. It feels other-worldy and almost fake.  How is it even possible for the water to be that colour?! We arrived at the iconic Spirit Island and enjoyed the solitude for a good hour or two. The boat tours were closed up for the season, and apparently mid-week in October no one is out paddling either.


As we continued down the lake, the mountains remained 'right there'. Honestly it is one of the most gorgeous places that I have ever been.


We paddled all the way to the end of the lake (22km) the first day, to Coronet Creek Campsite.


We were just so happy to be here in this heaven on earth!! (Ha! Cheesy I know!)


Temps were cold with overnight lows down to about -10 degrees celsius.  We went for a run up the Coronet Creek trail.  I really wanted to go all the way to the Henry MacLeod campsite 8km up, but a couple of things prevented that.  Firstly, I read that it was grizzly bear territory and, well, to be honest I have a bit of a bear phobia.  Not enough to prevent me for being in the backcountry, but enough for me to think just 2 or 3 km in was good!  And secondly, the Parks Service has stopped maintaining the trail and the campsite up near the Coronet Glacier.  These kind of decisions are always a little disappointing to me because I hope for more access, not less.  You can still go there (though they have taken it off all the maps), you just have to come up with your own method for securing your food against bears if you wanted to overnight.
So we loaded up again to head a little ways back down the lake to another campsite…..


And again, the conditions were unbelievable.  It is not often you get a lake this calm.


Fishermans Creek campsite is nestled in a beautiful little bay.  It really was aptly named  – we should of had fishing gear!


The pre-dawn sky was gorgeous too.


Our tent was frozen solid when we woke up in the mornings!


On the last day we got on the water before sun-up.


We dawdled our way back, stopping in a number of bays as we went, even crashing through ice as the lake was starting to freeze in the sheltered places.


We got out to explore a few times on land as well, because we really didn't want to be done!!


Even the grasses were pretty in the light!


We had encountered no other human being for 2 ½ days.  We were so surprized when we saw a couple of other party's of canoers/kayakers as we returned to nearer the boat launch.  We had gotten lulled into the sense that we were going to be the only ones out there – a fact that we were 100% happy with!!
If you are planning an excursion into this part of the world and you have the skills to do this trip, do it!  Though we prefer a river trip because whitewater is a little more exciting for us, I would go again in a heart beat. It is that AH-MAZING!
EXTRA INFO
PERMITS & CAMPING
Camping is by advanced reservation, in 3 designated backcountry campsites.  There are no facilities except tent pads, outhouse, and bear caches.  You are required to have your own backcountry gear and know-how.  You may stay a maximum of 6 nights, or 2 nights at each campsite.  Competition is high during the summer so you need to reserve early.  Reservations are available year round.
Hidden Cove:  4km from the boat launch, this is an easy paddle.  Because of it's close proximity, it allows less experienced canoers and kayakers to access the Maligne Lake experience.  It is in a totally gorgeous location, and has lots of opportunity to explore with kids.  There is also a tiny cabin that is designed as a cookshack with a wood burning stove in it.  You can't sleep in there, but would be a great place to hang out if the weather isn't so great. They have done an excellent job of making each campsite private.
Fisherman Creek:  13 km paddle from boat launch and 1km from Spirit Island.  It is tucked away around the corner in it's own little piece of paradise.
Coronet Creek: 22km from the boat launch, almost right to the southern end of the lake.
There are a number of  day use area's as you paddle down the lake.  You are not permitted to camp in them.
HAZARDS
The water is extremely cold, even in the summer – 4 degrees celsius cold!  There is no room for error.  Skills and experience canoeing/kayaking are definitely needed, as well as wilderness travel knowledge.
It is a high mountain lake (1700m).  Weather conditions can change quickly and dramatically, whipping up a calm lake to a white-capped frenzy in a few short minutes.  Stay close to shore. Know how to handle your boat.
Wind.  Plan to paddle in the morning if possible.  It is often calmer.
OTHER USERS
Tour boats operate during the summer, taking loads of tourists to Spirit Island.  They are the only motorized boats that are allowed.  From Spirit Island to Coronet Creek the tourists melt away behind you, and you will most likely have the lake all to yourself, except for the occasional paddler.
MAPS
"Jasper & Maligne Lake" by Gem Trek Publishing is an excellent resource, available from many retailers in Jasper.
You Might Also Like: