Canada really is full of surprizes.  Every year I think I know all about winter, because, after all, I am about to head in my 5th in the great white north!  Every year I get reminded afresh of what winter actually means.  In some ways, it means that life gets a little bit trickier.  I have to find a gazillion clothing items to get the kids out the door, the driveway needs to be shoveled before we go anywhere if it has snowed, and I have to get used to lots of cold shivery moments.
But I also really love winter.  The dramatic changes in season's means that we put away everything summery, and put out all sorts of cool gear– downhill and cross country ski's, snowshoes and skates.  A winter that begins in December and ends in March would be perfect!  But what happens when the snow comes in October and you have a camping trip planned?  Well, you go anyway!
We had reservations at Mt Kidd RV Resort and we were planning on camping alongside some good friends, some of their friends, and my parents.  The forecast told us that it was going to be chilly with rain and snow pretty much the whole long weekend.  We were prepared with lots of warm stuff in our trailer, but when we realized it was a powered site, and our friends had an extra heater we snapped that baby up and ran it all night!
Our activities: (in addition to just general running around playing, and socializing)
Elbow Lake is a great short walk up hill about 1km to reach the lake.  It was our first snow of the season so the kids needed some reminding about what they needed to wear and how to manage their body temps in the snow.  The little ones were not so sure about the white stuff and wanted their dads to carry them.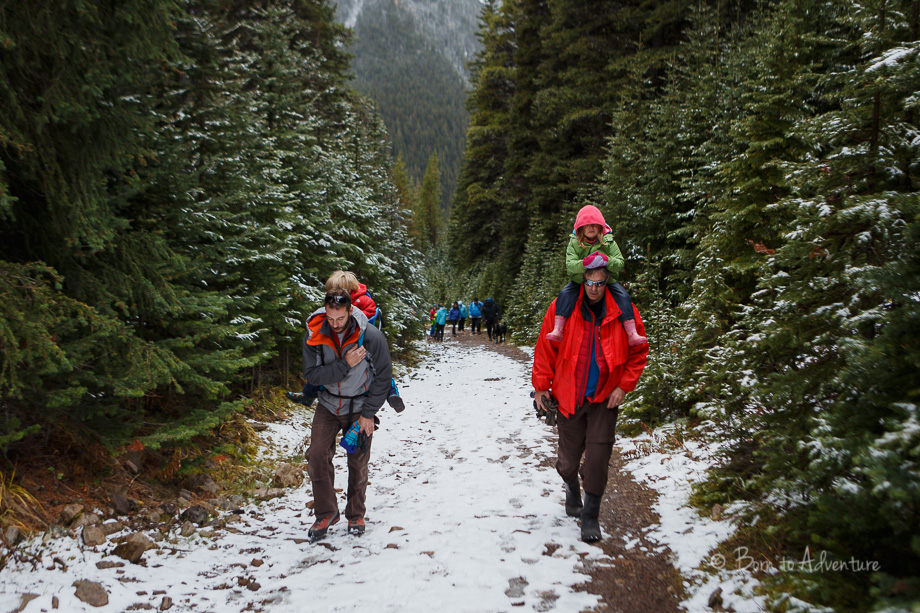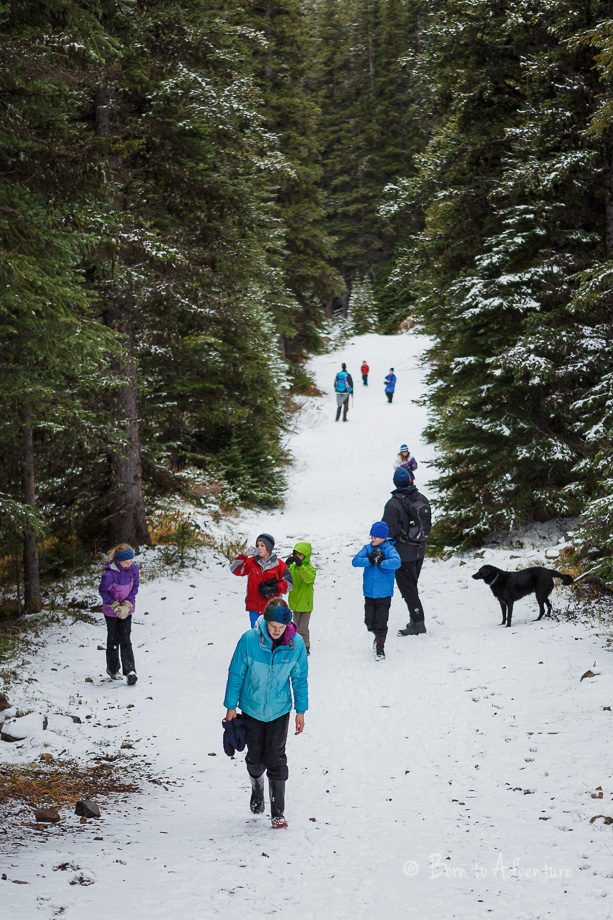 Once you arrive at Elbow Lake there is a backcountry campground with 15 sites that would be a great family backpacking excursion.  It was expensive though at $12 per person and requires advanced reservation.
Our plan was to circumnavigate the lake.  It was snowing and definitely gloomy but the kids were all well amused running, throwing snowballs & tackling the dads.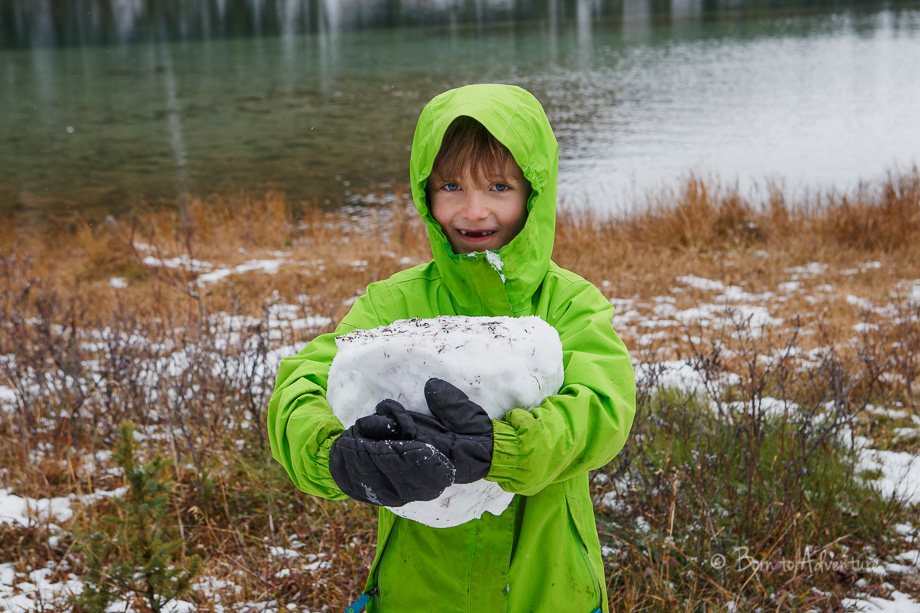 The second day we woke up to about 4 inches of new snow, so decided to go for a walk down the river from the campground.












In the afternoon we went into Canmore to the aquatic centre and finished off the day with a cool campfire that looked like the northern lights!


On the last day no one was really in a hurry to go home. It didn't feel pressing to go fast because even though the campground was fully booked after we made our reservations a few weeks before, there were a tonne of no-shows and the campground was only 1/3 full.  We knew no one would be coming in needing our site so we walked up the river with the whole tribe.


  What I love about raising kids in the outdoors is they just make fun with whatever.  The ones that had boots on were making it their mission to try and cross the river. 


We also had a few games of camouflage with both the kids and adults, before we dawdled back to camp, had lunch and left for home.
Highwood pass was snowy – I am glad I wasn't driving, but I have no regrets about camping in the snow.  It even got us thinking about maybe trailering all winter long!



You Might Also Like: