SO! ARE YOU THINKING ABOUT TRYING A BACKPACKING TRIP WITH YOUR KID(S)?
It will truly be worth the effort.  Promise.  Let me give you 5 tips (thoughts!) that you might want to consider during the planning stage, when you are choosing WHERE you are going to go.  The success of your trip may well depend on a great location!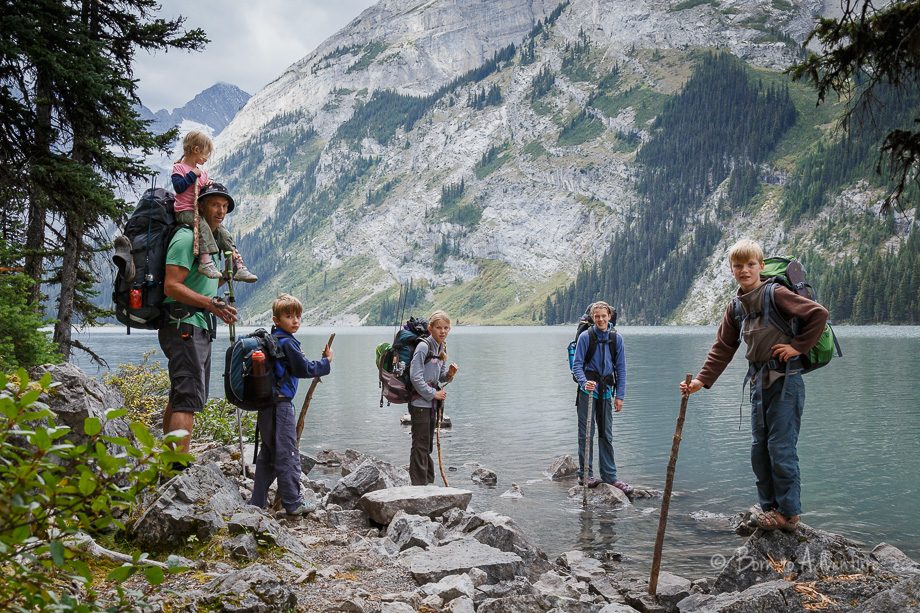 1  CHOOSE AN AREA THAT ISN'T TOO POPULAR
Having to rush or feeling the pressure to get to a campsite or hut is no fun when it's first-come-first-serve.  Think about area's, days of the week or times of year where you are less likely to encounter competition.  The kids will also enjoy the freedom of being as rowdy as they want. As parent's, there is less pressure if a child isn't sleeping that great at night to be further away from fellow campers.
Elk Lakes Provincial Park has all the ingredients for a perfect 3 night /4 day adventure.  It is lesser known than the popular area's of the Canadian Rockies a little further north.  We went midweek, and were banking on the fact that most people would be doing other things. We probably saw 15 people total over the 4 days.




2  THINK ABOUT A LOCATION THAT HAS GREAT SCENERY
As much as I love the outdoors, I am not very inspired if the scenery is just meh.  When I am doing a kid-sized adventure, I still like it to be beautiful.
Elk Lakes is a truly stunning area.  I kept on thinking that it was the best spot ever for family backpacking.  At every turn the vista's were amazing, on the grey days and the sunny days.




3  FIND A TRAIL WITH LITTLE ELEVATION GAIN
Carrying a pack is an adjustment and can potentially be tough on kids the first time they are a pack mule.  A gentle grade or short uphills are best for their morale until they know what they are capable of.
The Lower and Upper Elk Lakes trail up to Petain Falls has 180m elevation gain over 10 km. Most kids (and adults) would hardly notice that they were going up – those are minimal elevation changes and perfect for families.











4  PLAN FOR SHORT DISTANCES & LOTS OF PLAY TIME
The goal with any first time experience is to make it fun enough that they are eager for more.  Sure, they could walk 12km, but I suggest less.  5km might be a good daily maximum.  That may only take a couple of hours with motivated kids but it leaves tonnes of play time.  You could hike to some other interesting point from your campsite (without the heavy pack), swim, play games, go fishing or just hang out. Our kids are in their element in the wilderness, but if yours aren't, they might struggle to come up with idea's of what to do and think it is boring.  If you expect that might happen, go prepared with some ideas of forest games, jokes & riddles, or even skills you want to teach them like fire lighting or shelter building.
From the parking lot to the Lower Elk Lake backcountry campground it was 1 km.  Perfect 1st day for a 3 year old!  The second day we packed up camp and walked 3km to Upper Elk Lake and set up camp for 2 nights. The third day we did a 12km round trip to Petain Falls and back to our campsite.  The fourth day we hiked 4km back to the van.
The kids frolicked a tonne!






True to Elk Lakes reputation, we caught a bunch of fish.




We played with fire a lot – the game was heating up small rocks and wrapping them in pieces of cloth and putting them in pockets, and down shirts for that little burst of warmth.



There were lots of fossils up near Petain Falls so plenty of entertainment there too.


5  LOOK FOR GREAT PLACES TO CAMP
Who doesn't want to wake up to an inspiring view?!  Camping by a body of water is ideal (otherwise you are carrying all your own water). Check out google earth to wet your appetite. You could also consider a more popular area and investigate what the rules are for camping away from the predetermined area's – that's my favourite way to do it 🙂 but is less likely to be allowed in National Parks.





And a couple of bonus tips…..dehydrate your own apples – they are the best!…..


…..take lots of pictures, even of your boy doing up his pack buckle just because the reflection in the lake behind him is so amazing 🙂


If you are struggling to come up with a suitable idea, shoot me an email!  I would love to connect with you & answer any questions you may have!  Also a successful backpacking trip has a few more elements than just a great location.  I will address food, equipment etc in another blog post, another time 🙂
You Might Also Like: