Spring is in the air around these parts.  Our two-year old asks a few times a day to 'go biking'.  It's exciting this year, because she gets to be a more active participant in the process.  When our 2nd child was 2, we decided to invest in a trailgator, and we have used it for all subsequent kids between about 2 & 5 years old. It is essentially a tow bar that attaches from an adult bike to a kid's bike with 12″ or 16″ wheels.  It lifts their front wheel off the ground, and they can peddle…..or not!!  It also prevents them from turning the handlebars, giving them something solid to hold onto.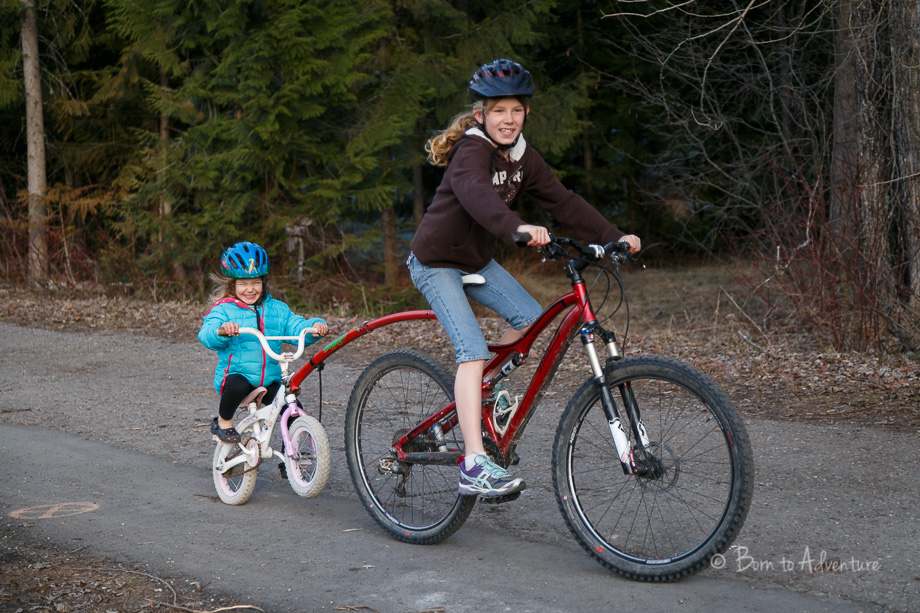 WHAT WE LOVE ABOUT IT
It gives us a lot of freedom as a family.  With care, it is capable of allowing us to go on trails.
We avoid that phase of not being able to go that far.  With the trailgator we go at a quicker speed, and can cover a lot more distance.
Once the child can ride on their own, you can switch between towing or letting them loose.
You can buy an extra attachment so either Mum or Dad can tow.
Keeps them safe when there is traffic about because an adult is in control of direction
WHAT TO WATCH OUT FOR
It's a little tricky to assemble the first time.  Check out Utube for some pointers.
It needs to be adjusted perfectly so the child isn't on a lean and/or flopping from side to side.  Keep tweaking until it is right.
The bike is lifted up on an angle so the seat can be tilted back a bit.  It hasn't bothered our kids too much, but you could adjust the seat angle if necessary.
We don't believe in training wheels, but if you do, they won't work with this contraption.
You Might Also Like: