I have been in a rut lately, tired of doing the same-old, same-old.  Being uninspired and going through a discouraging patch in my parenting journey has been no fun.  I felt like we all needed a mix up.
Others think I am crazy for going camping with the kids on my own.  I think I might be too. My 6 year old son's class has a little mantra, "I can do hard things" and that is a phrase I believe in also.
I mentioned my camping idea to my up-for-an-adventure friend. She was enthusiastic. I love her 🙂  If I was being honest though, I was kind of hoping that the timing wouldn't work for her. With my personal slump, I also felt exhausted.  It is so hard to pack up a bunch of stuff, wrangle kids, figure out what we are going to eat, and make all the logistics of camping without Dad, work.  Did I really have it in me?  Could I push through? And did I even want to for a two day, one night adventure?
My friend didn't back out, so I wasn't going to either.  She easily could of, with her own set of challenges she was facing with her family, and a similar dose of mama weariness. She was flying solo with four of her six kids for this trip. Our husbands thought we were nutty.  It is still winter after all.  She had a tent trailer.  We had tents.  It's not like we had a recipe for an easy, relaxing time.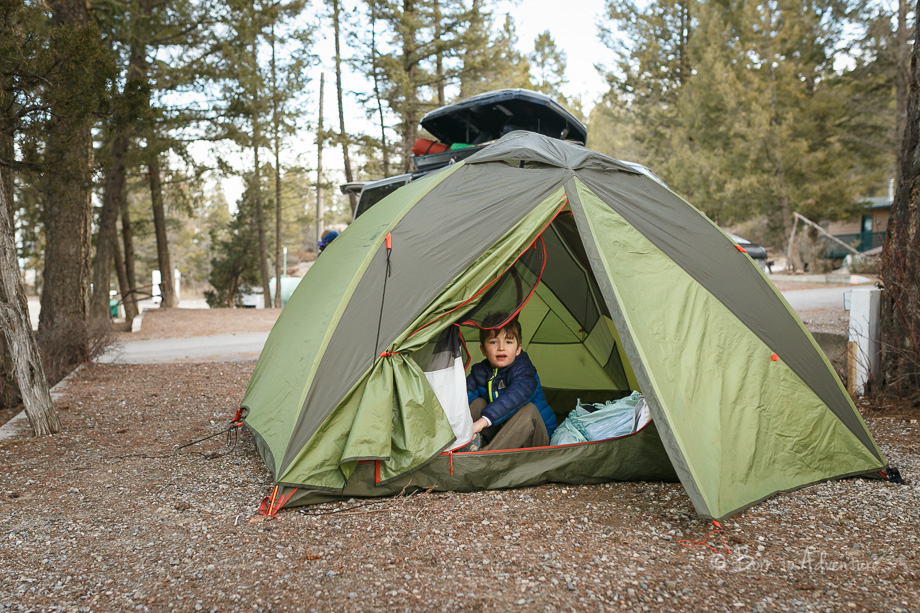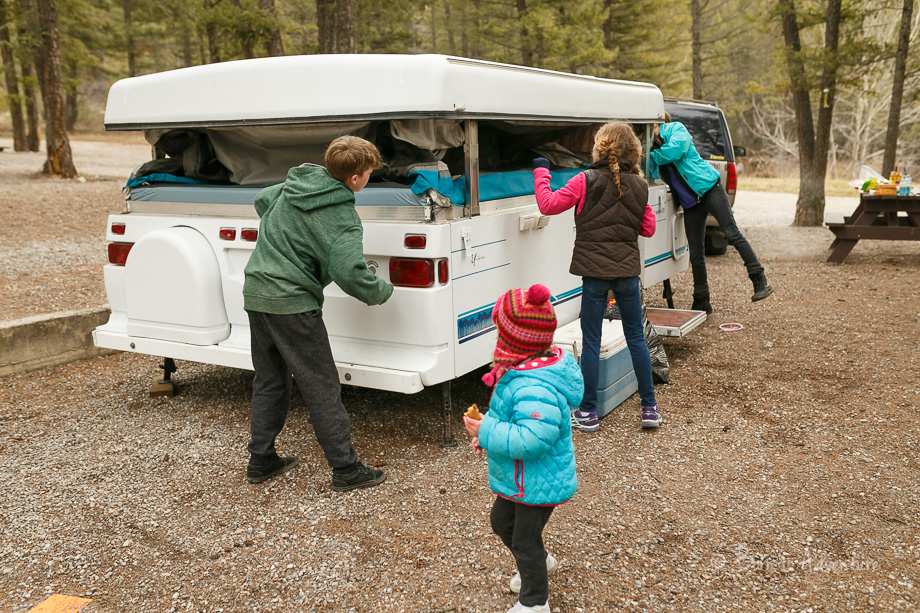 Less than 24 hours after the mention, we were on the road.  Our destination: Fairmont Hot Springs and the campground that isn't officially open for the season yet. As you can imagine, we were the only ones there.
The kids are exceptional helpers these days and contributed hugely to organizing and packing.  I instructed them to pack two sleeping bags per person to cope with the -4C (25F) overnight low that was forecast. I didn't check, and guess who's they forgot??  Their darling Mum!!  That was a hard pill to swallow.  But never fear.  My 2 year old, unbeknown to her, gave up one of her sleeping bags.  Thankfully lots of blankets were packed, and I went to bed fully decked out in winter garb and I was cozy. It helps to have a soak in the hot pool, warming up your blood to near boiling, before climbing into bed.  Not everyone in camp had the same report when they woke – it was a chilly night for sure.
The kids hung out with their same age friends, exploring, and running between the playground, our campsite and the hot pools at the resort.  They had a blast.  And I was satisfied.  Satisfied that I went with my gut of needing to do something different.  Satisfied that I CAN do hard stuff.  Satisfied that I could spend time with a friend and our 9 kids collectively.  And satisfied that we got the camping season off to a mighty fine start.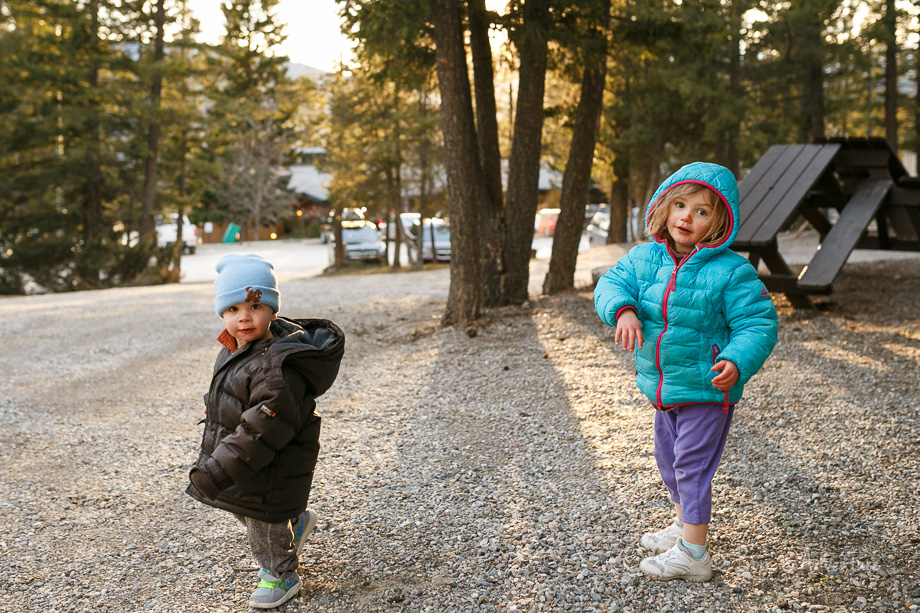 SOME OF THE FINER DETAILS
CAMPING:
We camped right by the commercial hot pool in the RV resort.  My friend had called ahead and was told that we could came, but there were no amenities (water or bathrooms).  We got all checked in at the front desk, and later a staff member came and told us that we weren't able to camp where we were. He was kind enough to let us be – thankfully.  Tenting is usually at Spruce Grove Campground.
We brought our own water, and used the bathrooms at the pools and resort.
Of course, if you aren't up for camping, you can book a room at the resort.
FOOD
I didn't want to make a trip to the grocery store so scrapped together some meager rations from our cupboards at home.  Dinner = chilli that I had previously frozen & salad that I quickly threw together at home.  Breakfast = granola which one of my daughter's had made. Lunch = vegemite sandwiches. Snack = muffins pulled out of the home freezer and fruit.
We had our camping basics – bowls, spoons, pots, table cloth, MSR Stove…..
SWIMMING
The resort location is stunning.  It is pretty hard to beat the view from the pool, with mountains all around.  There are three pools which are separated by partition walls, so it has the appearance almost of one large pool.  They are different temperatures and depths, and there is room for the kids to be kids.  Be prepared to fork out a bit of cash.  We got a family night pass for swimming between 7.30 & 9pm for $24.  The following day we purchased a family day pass for $46.


If you have a bit of an explore, you will also find other free places to have a dip!  Being fully clothed works just fine 🙂




You Might Also Like: