In Central British Columbia is tucked this gem of a lake, with clear sparkling waters, majestic mountains, and heavily forested slopes.  Murtle boasts being the largest non-motorized lake in North America, and is shaped like a backwards "L".  It has more than 100km of pristine shoreline, dotted with white sandy beaches…..all the perfect ingredients for it to be our first major wilderness multi-day outing as a family of seven.  A brave family of five, joined us too.  In total we had 4 adults, and 8 kids spread between 10 months and 11 years old.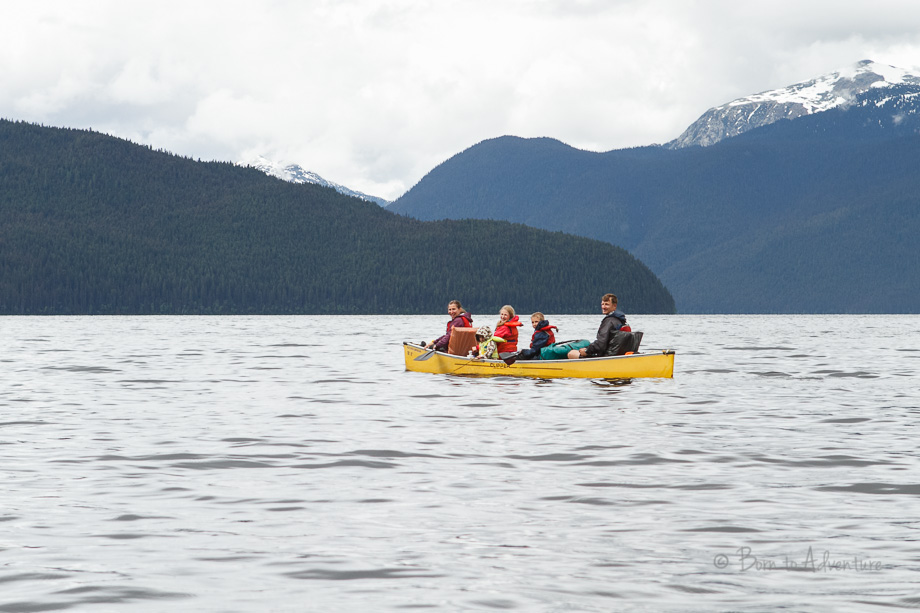 GETTING THERE
Access is from the small town of Blue River on Highway 5 (Southern Yellowhead Hwy), about 3 hours north of Kamloops, and 3 hrs west of Jasper.  Blue River Campground is a good place to stay to pack and/or prepare for the trip.  From Blue River it is a 24km trek up the mountain (about 1000m elevation gain) on a winding, narrow, gravel forestry road to a large parking lot.  The road was in good condition (make your own inquiries) but only wide enough in some places for one vehicle.
From the parking lot it is a 2.5km portage to the lake (Murtle Lagoon).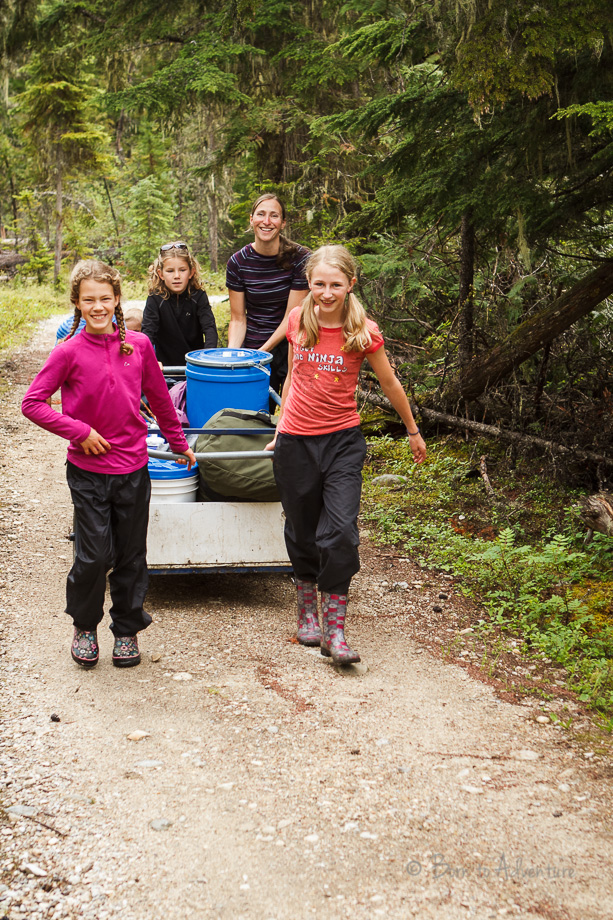 EQUIPMENT
If you don't have your own canoe you can rent from Murtle Canoes or Blue River Campground.
Murtle Canoes will require advanced pre-booking as they meet you at the lake with your boat. You can portage your gear in the carts that they provide.  They have a strict pick-up and drop-off time of 11am, so if that sounds too restricting you can rent your boat & canoe cart from Blue River Campground.  We used Murtle Canoes gear carts ($5) to transport our overflow of gear so we didn't have all that weight in our canoe as we portaged.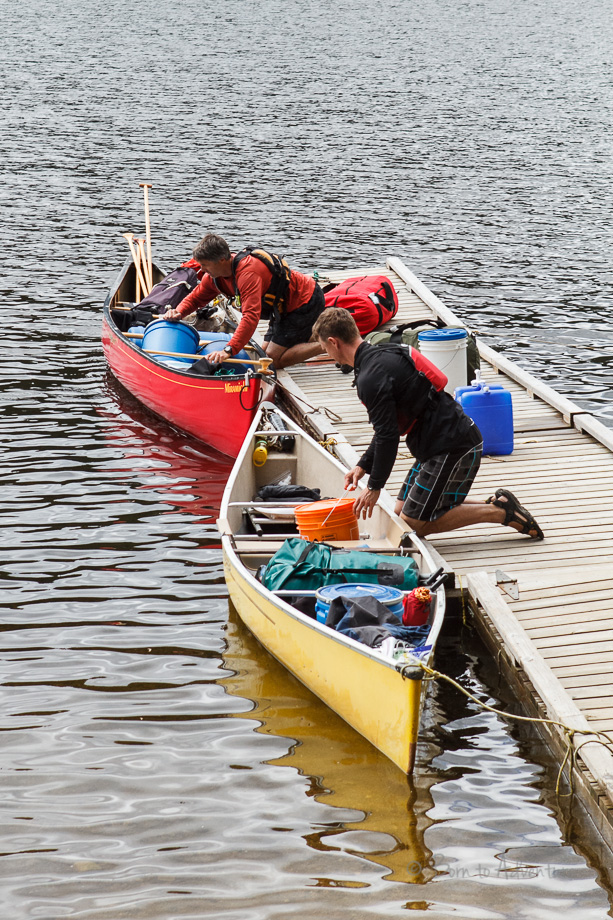 Mosquito's were terrible while we were there in late June, early July.  Thankfully we invested in a bug shelter, which saved our bacon with the kids.  We also had bug head-nets for the older kids, and full bug shirts for the under-5 yr olds.  Bug proof clothes or Insect repellent was a must!


CAMPING
Camping is in any of the 19 designated sites – first come, first served.  Check out this map for locations, facilities and the size of group each one cater's for.  Each site has fire rings, bear caches, an outhouse and a white sandy beach.  Fee's are $5 per person, per night for everyone 6 years old and over.  Register & pay for your party at the Lagoon, by filling out an envelope and placing into the box.  Keep the stub so you can show the ranger if he/she asks.  The ranger patrols, using the only motorboat allowed on the lake.


THINGS TO DO
Relaxing
Murtle is a beautiful wilderness environment.  The only sounds to be heard are that of the wildlife and our frolicking kids.  It is a magical place to relax and take in the grandeur.


Hiking
There are six marked hiking trails dotted around the lake: File Creek, McDougall Falls (5km), Anderson Lake (4km), Central Mountain (7.5km), Wave Crest Peak (10km), Strait Lake (5km)
We were there early season, and the trails were not yet clear of windfall or snow, so we never got to hike, but the Wave Crest Peak trail looks particularly amazing.  It would be a great spot for an overnighter, high up in the alpine with amazing wildflowers and views.
Fishing
Rainbow Trout and Kokanee call the lake home.  A fishing licence is required
Swimming
The beaches look amazing.  They were small when we were there because of high water, but later in the season they are big and beautiful.  Late June, early July the water was cold, but that didn't stop our keen-er kids swimming every day.


Wildlife
This is nature in it's untouched state.  The area is home to Moose, Caribou, Bear and many other little critters and birds.  We had a bull moose tromp through our campsite just on dusk, which was rather exciting!
Paddling
Of course!!!  With 100km of shoreline there is no shortage of that. We chose to base camp at #4 (Arthurs), and head out for day excursion's.  It would also be fun to circumnavigate the lake or do a smaller circuit of just the North Arm or just the West Arm.  It is all amazing – you can't go wrong with what you choose really!


You Might Also Like: